3 REASONS TO SHOP EARLY THIS HOLIDAY SEASON
---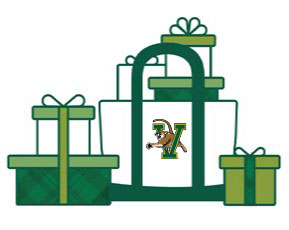 The COVID-19 pandemic has changed so many aspects of routine life, including how we shop and how we show our school spirit. That's why it's important to shop early and online this year – to help us protect the well-being of our employees and the larger campus community, as well as to help you prepare for the holidays.
Keeping Catamount Country safe. Due to the enhanced safety precautions and reduced occupancy limits in our stores and disruptions in our supply chain, shipping times may be longer than expected and certain items may not be regularly in stock. Please consider shopping earlier than usual this year – not only will it help you get your order on time, it will help us maintain safe and healthy working conditions for our employees here in Burlington.
Some factors are out of our control. We're fulfilling your orders as fast as we can, but the shipping carriers we work with are experiencing delays getting packages to their final destinations. Everything about this year has been unpredictable, and shopping early is the only way to avoid that feeling of disappointment when you realize your order might not arrive on time.
It's the best way to save. We've moved away from our annual End of Semester Sale and created an entire "Season of Savings," with four great opportunities to shop and save in November and December. Online sales will run from November 14th through November 22nd, November 26th through November 30th, December 4th though December 11th, and December 17th through December 20th. Coupon codes and additional details about the sales will be announced the day before each sale begins on our website and via our Facebook and Instagram pages.
Hours of Operation:
From December 12th through 23rd, the Bookstore will be closed for all in-person shopping, but orders can still be placed through our website for either weekday Curbside Pick-Up outside the Davis Center or for shipment. Curbside pick ups can be scheduled by visiting calendly.com/bookstorepickup The Bookstore will be closed fully from December 24th through January 3rd for the Winter Break and online orders will not be processed during this time frame. Catamount Store will maintain their regular hours of 10:00 am - 6:00 pm, seven days a week, for in-person shopping for all customers.